Fall 2013
The following are the course numbers of the classes offered through the English Department (listed within The University Catalog under ENGL). Each number will send you to a brief description of the course, when available.
English 130: Academic Writing
English 130PI: Academic Writing
English 203: Shakespeare On Film
English 220: Beginning Creative Writing

English 240: Literature of Life
Instructor: Sandra Flake
In this course, we will read and discuss literature from various nations and cultures, with an emphasis on the relationships of these works to our lives and current events:  what can these works tell us about how different societies function, about relationships between and among people, about human behavior?  What can we learn about our own and others' lives from what we read? Where does personal responsibility come in?  The required reading will include outstanding works of fiction, poetry and drama by American and international writers, and class will be focused primarily on discussion, with occasional quizzes and group assignments.  Students will also write responses to themes and issues raised by the reading and complete two projects.
Literature for Life is an approved General Education course in Lifelong Learning (area e), and it is included in two of the General Education Pathways in which students can complete an interdisciplinary minor:  1) Ethics, Justice, and Policy and 2) Great Books and Ideas.
English 252: American Indian Literature
English 258: World Literature
English 260: Great Books
Professor: Geoffrey Baker
The goal of this course is to introduce you some great novels, poetry, drama, and non-fiction prose, a body of work that stretches back thousands of years. On your own, you will be expected to read each text carefully. As a class, we will attempt to place each work in its larger context and see what it seems to want to say to its reader and what tools it uses to say it. Grades will be based on a few short writing assignments on Vista, a midterm, a final exam, and an analytical paper. Final list of books to be announced.
English 261: Women Writers
English 264: Amer Eth/Reg Writers-WI
English 276: Survey of Early British Lit
Professor: John Traver
"Some books are to be tasted, others to be swallowed, and some few to be chewed and digested."  -Sir Francis Bacon
This course provides you with a full-course meal of British literature.  We will survey the development of British literature, beginning with the Medieval period (with works such as Beowulf and The Canterbury Tales), continuing through the Renaissance and early Seventeenth Century (with authors such as Shakespeare and Donne), and concluding our repast with the Restoration and Eighteenth Century (with works such as Pope's The Rape of the Lock and Swift's Gulliver's Travels).  In order to survey such a wide-spanning period of history, our pace will have to be fast (i.e., a lot of texts will be "tasted" or hastily "swallowed").  As a result, you will not only discover how British literary traditions develop over time, but also be introduced to a variety of delectable texts for future periods of digestion.
Assignments will include the following:  a mid-term examination and a final; journals and Blackboard postings; a group presentation; poetry memorization; quizzes.
Required Texts: 
Volumes 1-3 of The Broadview Anthology of British Literature.  (Please get the most recent editions.)
Samuel Johnson's The History of Rasselas, ed. Jessica Richard (Broadview).
(Note that all 4 Broadview texts are available at a discount when purchased together.)
(Back to Top)
English 277: Survey of Later British Lit
English 278: Survey of Early American Lit
Instructor: Rob Davidson
English 278 covers American literature from its beginnings to the 1850s. The reading load, while substantial, should cover not more than 100 pages from our anthologies per week. Students will be required to complete a series of shorter online responses, two longer expository papers, a mid-term exam, and a comprehensive final exam.
Required Texts:
Nina Baym, et al., editor. Norton Anthology of American Literature, Volume A: Beginnings to 1820. 8th edition. New York: Norton, 2012.
Norton Anthology of American Literature, Volume B: 1820-1865. 8th edition. New York: Norton, 2012.
Required Course Materials:
Examination Book(s)—you will need one or two examination "blue books" for required exams.
English 279: Survey of Later American Lit
English 320: Poetry Writing
ENGLISH 320: Poetry Writing
Fall 2013
Instructor: Jeanne E. Clark
TR 2:00-3:15 & W 4:00-5:50
Butte 325
One breath taken completely; one poem, fully written, fully read - in such a moment, anything can happen.
—      Jane Hirshfield (Nine Gates: Entering the Mind of Poetry)
The aim of this course is to make you a better writer of poetry by making you a better reader of poetry.  Reading poetry—and writing it—is a matter of paying attention, of being alive to the possibilities of language, of learning to appreciate craft, and allowing the poem to be what it wants to be, and all it can be, in combining and reacting with the speaker's sensibility.  You will read poems by both established and up-and-coming poets, representing a wide constellation of voices, approaches, and subjects. 
Each week you'll complete a poem draft—writing (or rewriting) a poem in response to an instructor prompt.  We'll read poems—yours and those of well-known and emerging poets—and talk about what we find there in terms of news and craft.  We'll experiment with revision and talk about the art of submitting work for publication.  Some of the scheduled class periods will be devoted to reading and to craft issues, and some will be devoted to "workshopping" your poems.  The "fifth hour" will be used for alternative activities, both individual and small group activities rather than whole class meetings: visiting art galleries, sauntering through woodlands, talking with visiting writers about writing and the writing life, and so on.
Questions?  Contact Jeanne Clark (Siskiyou 133), jeclark2@csuchico.edu
(Back to Top)
English 321: Fiction Writing
Instructor: Rob Davidson
English 321 is an intensive workshop-based course in the writing of the short story. You will be asked to write "literary" work in this class (i.e., work that is serious, ambitious, well-crafted, contemporary, adult-oriented, emotionally engaging, and so forth). Work that does not aspire to the literary is outside the domain of this class. This includes literature for children, the sentimental romance, formulaic mystery writing, and the like. We shall study writing techniques and craft by reading each other's work and by studying the work of established authors. Expect to do a lot of writing and revision.
Please note that this course is specifically designed with the short story in mind. For the purposes of this class, we will define a short story as a self-contained fictional prose narrative that does not exceed 5,000 words (twenty double-spaced pages). "Long" short stories, novellas, and novel excerpts are outside the domain of this class.
REQUIRED TEXT: Boyle, T. Coraghessan, ed. Doubletakes: Pairs of Contemporary Short Stories. Boston: Thomson-Wadsworth, 2004.
Also, there will be one full-length collection of short fiction required (TBA). Finally, students should budget for up to 500 pages (or more) of required photocopying or printing for the workshop portions of this class.
English 327: Creative Nonfiction
English 332: Intro to Literacy Studies
English 333: Adv. Comp. for Future Teachers
English 335: Rhetoric and Writing
English 338: Environmental Rhetoric
English 340: Approaches to Literary Genres
Professor: John Traver
This course introduces you to several literary genres (fiction, poetry, and drama) and provides you with a set of analytical skills and strategies for interpreting literary texts.  You will learn to recognize common genre conventions, as well as how skilled authors may work within (or even defy) these conventions in ways which surprise us.  You will also become familiar with common literary terminology and learn how to construct an effective literary argument.
Note:  because this course provides important preparation for the English major, it will be writing intensive.  Assignments will include the following:  a midterm and a final; two papers; shorter writing assignments (such as postings on Blackboard); quizzes; memorization of one poem of your choice; class participation.
Required texts: 

Henry James's The Turn of the Screw, ed. Peter G. Beidler (3rd edition). 
The Compact Bedford Introduction to Literature, ed. Michael Meyer.
Professor: Geoffrey Baker
The goal of this course is to introduce us to the tools we use to read, analyze and discuss the three primary literary genres of poetry, drama, and fiction. We'll be reading a diverse and fascinating cross-section of traditional and modern poems, tragedy and comedy, and fictions, both short and long. Along the way, we'll become familiar with the terminology used to dig into literature and to explain what it does, why it does it, and why we value it.
English 341: Reading Lit for Future Tchrs
English 342: Literature of the Child
English 350: Science, Technology and Lit
English 353: Multicultural Literature
English 354: Classical Literature

English 355: Bible, Lit, and Culture
Professor: John Traver
Why do President Obama's speeches positively reference a "brother's keeper?"  Why does the narrator of Moby Dick want to be called "Ishmael?" In John Milton's Paradise Lost, how much of the "story" is of his own invention? To answer such questions, readers need a shared familiarity with the Bible that many writers and thinkers have taken for granted.

This course will provide you with a working knowledge of the structure and themes of the Bible to help you recognize allusions and perceive its influence on the shape of English literature and the broader culture; we'll look at the Bible alongside examples of the texts it has influenced. We'll also examine the genres and literary qualities of the Bible itself, such as its use of symbols, typology, repetition, acrostics, and even puns! Our goals are to have a greater appreciation of the Bible as a work of literature in itself and to understand its profound effect on the shape of subsequent literature and culture.

Note that this class is writing-intensive, fulfilling either the genre or period requirement for the English major, or serving as an upper-division arts and humanities GE requirement for a variety of majors.  All levels of familiarity with the Bible are welcome (from none, to knowledgeable).  We will be reading in translation selections from the Hebrew Bible (or "Old Testament"), the New Testament, and the deuterocanonical works (or "Apocrypha").  Texts will probably include:

Robert Alter, The Art of Biblical Narrative.
Ed. David Pasper and Stephen Prickett, The Bible and Literature: A Reader.
A Bible edition (probably the upcoming Norton Critical edition, The English Bible, King James Version, 2 volumes).
English 356: Literature, Politics, and Activism

English 364: American Ethnic & Reg Lit - WI
(Back to Top)
English 371: Principles of Language
English 372: Pedagogical Grammar
English 375: Introduction to Engl Grammar
English 431: Theory/Practice in Tutor Comp


English 448: The Long Eighteenth Century
English 451: Modern Poetry
ENGLISH 451: MODERN POETRY 
FALL 2013 
CLASS TIMES TR 11:00A.M.-12:15P.M.,
THMA 121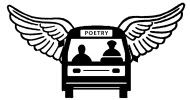 If I read a book [and] it makes my whole body so cold no fire can ever warm me, I know that is poetry. If I feel physically as if the top of my head were taken off, I know that is poetry. 
--Emily Dickinson
Writer: how books read each other.
--James Richardson
Welcome!  This is an upper-division genre course. It is a course in which we will labor to learn more about the genre of poetry: how poems/poets begat poems/poets, what terrains poets consider worth fighting for, how poems discover and shape meaning, as well as why and how we might respond to poetry reflectively, critically, and imaginatively.  This course is an exploration of full-length collections of poems, first books by a diverse range of modern and contemporary poets.  We will consider the tools these poets use to make poems.  These tools will include various forms /poetic structures and specific poetic strategies such as meter, metaphor, and mousse.  Oops, I'm confusing poetry with desert, a simple enough mistake.  Further, in this course we will labor to become a generous and spirited reading and writing community, one in which we'll work both individually and in collaborative groups to wrestle this angel of poetry into our arms. 
For more information, contact Jeanne Clark, jeclark2@csuchico.edu.
English 455: The 18th- Century Bristish Eighteenth Century British Novel
Professor: John Traver

 "The person, be it gentleman or lady, who has not pleasure in a good novel, must be intolerably stupid."  -Jane Austen's Northanger Abbey
This course traces the development of the British novel through the eighteenth century and the Romantic era.  During this period, we see the emergence of "the novel" as a new and distinct form of prose narrative which modifies (and sometimes rejects) earlier forms of story-telling, such as travel narratives, "secret histories," classical epics, and more.  We will also be interested in how eighteenth-century writers debated the nature of the "novel," through prefaces and through the structure of the novel itself:  we will see them produce a diversity of story-types, such as the picaresque, the sentimental novel, the Bildungsroman, and more. 
Although the reading load will be substantial, so too should be the rewards.  Not only will you encounter some of Britain's most famous novels (such as Robinson Crusoe and Gulliver's Travels), but you'll read them in conversation with the popular "sensationalistic" novelistic trends of their day (such as in Eliza Haywood).  You'll be treated to some of the finest examples of wit in Jane Austen and of suspense in Samuel Richardson.  If you don't enjoy these readings, Jane Austen will think less of you!
Assignments should include the following:  a mid-term and a final; one short paper and one longer paper; short writing assignments and/or Blackboard; a class presentation; class participation.
Authors will be selected from the following:  Jane Austen, Daniel Defoe, Henry Fielding, Eliza Haywood, Samuel Richardson, Laurence Sterne, and Jonathan Swift.
English 457: The American Novel
The Misfits in American Novel
Time: T/Th, 9:30-10:45                                            
Classroom: Langdon Hall, Rm. 106
Instructor: Dr. Aiping Zhang                                 
To conform or not to conform to conventions, that has always been a tough question for people who want to "live deliberately" and for writers who knows "imitation is suicide see originality as the life of literature. Often, those who chose not to conform ended up being discarded as "misfits," if not "losers." The portrayal of such "misfits" has been a long and unique tradition in American novel, and many writers themselves were treated by their peers as "misfits" for featuring non-conformable characters in their non-conventional novels. Today, however, most, if not all, of these "misfits" have become archetypal characters in American literature and their creators have been acclaimed as masters of American novel writing. Through a comparative reading of representative novels by writers of different time, gender, ethnicity, and style, we will not only find out what turned these characters and writers into "misfits," but also examine all the visions, inventions, subtleties, ambiguities, and controversies these writers have contributed to American novel writing.
Required Texts
Kate Chopin, The Awakening
William Faulkner, As I Lay Dying
Gertrude Stein, Three Lives
Michael Cunningham, The Hours
Joseph Heller, Catch-22
John Okada, No-No Boy
Nathaniel Hawthorne, The Blithedale Romance
Toni Morrison, Paradise
English 459: Later American Literature
English 459: Later American Literature

 English 462: Study in Major Amer Authors
(Back to Top)
English 468: 20th- Cent & Contemp Brit Lit
Professor: Geoffrey Baker
The 20th century saw Britain and Ireland involved in two world wars and the loss of what remained of England's once-expansive empire. In addition, tensions between ethnic groups and social classes occasionally culminated in riots and strikes, and writers continued to document changing gender roles in the wake of advances in women's rights (such as full suffrage in 1928). The literary responses to these tectonic cultural shifts ranged from avant-garde experimentalism to sober reflection, from comedy to tragedy and tragicomedy, and from stream-of-consciousness narrative to novels charged by domestic tensions and the pressures of globalization.
In this class, we'll read texts by British and Irish writers, and try to cover the broad range of fascinating developments in poetry, drama, and fiction from modernism to postmodernism.
Final list of texts to be announced.
English 470: Second Language Acquisition   
English 471: Intsv Theo & Prac 2nd Lang Acq   
English 476: Phonological Analysis
English 620: Workshop Form & Practice
Fall 2013
JEANNE E. CLARK
T 4:00-5:50p.m., Butte 325
When I write, I aim in my mind not toward New York but toward a vague spot a little east of Kansas.  I think of the books on library shelves, without their jackets, years old, and a countryish teen-aged boy finding them, and having them speak to him.  The reviews, the stacks in Brentano's, are just hurdles to get over, to place the books on that shelf.
--John Updike
To write is to write is to write is to write is to write is to write is to write is to write.
--Gertrude Stein
This course is designed as a multi-genre creative graduate writing workshop and theory seminar rolled into one.  Students will have the opportunity to write and submit for critique poetry, fiction, or creative non-fiction, as long as the writer has had substantial experience with the genre of his/her choosing.  The course is intended for graduate students who have learned about their chosen genre as well as about the workshop approach in 300- and 400-level creative writing classes and who have a sense of their directions as writers.  The emphasis will be on student writing: "workshopping" and revising new work students produce for this course.  However, I will assign a variety of contemporary texts in the three genres (depending on the distribution of genre interests among the students). 
This course seeks to be useful to writers producing work that is serious and ambitious, and to those having familiarity with reading and discussing serious, ambitious creative work in a workshop environment.  We will consider theoretical and craft issues as they come up in our discussions of your work as well as in the assigned readings. 
Depending on the size of the class, each student will be required to submit two full-length stories or essays, or the equivalent amount of poetry, plus considered revisions.  Students will participate in discussions of writing submitted to workshop as well as assigned readings.  Students will provide each other typed critiques of writing discussed in workshop. 
Please contact Jeanne E. Clark (jeclark2@csuchico.edu) if you have questions or would like to know more about the course.